One of the largest glamping facilities in the Tohoku area
A glamping facility has opened in Sendai City, Miyagi Prefecture, in Japan's Tohoku region.
Surrounded by the forest, you can experience glamping while enjoying the parade of the seasons. Glamping is a luxurious camping experience that requires no equipment or preparation.
The dome-shaped guest rooms, designed based on 10 cities around the world, are spacious and luxurious. Enjoy a relaxing camping experience complete with room service.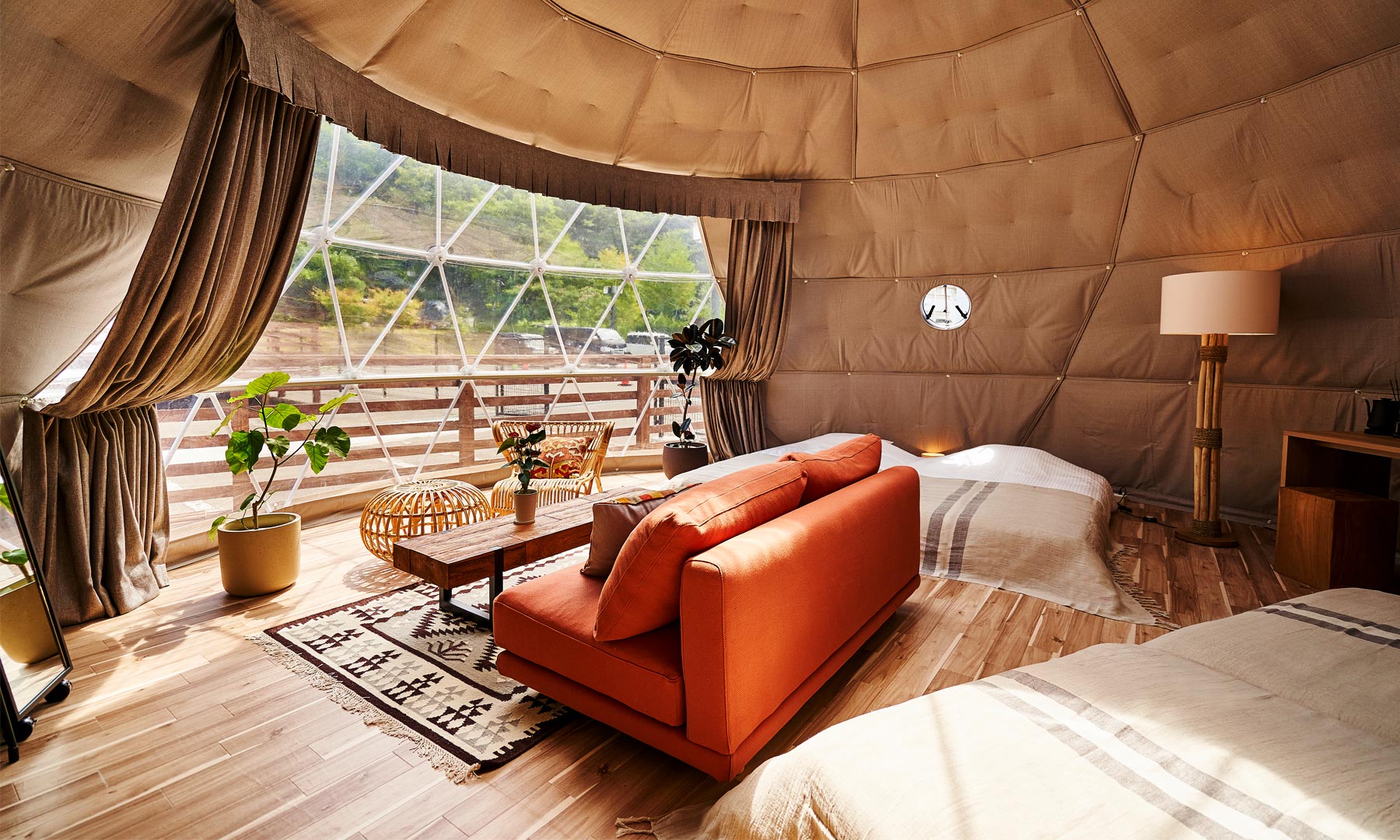 Private open-air bath

There are 10 types of guest rooms designed based on various tourist destinations worldwide. Enjoy the interior designs that evoke images of each unique location, such as the island of Santorini in the Aegean Sea and the exotic Kashmir. Choose your favorite room design as if you were planning a trip to one of these locations.
The domes built on wooden decks are fully equipped with heating and cooling systems, making them very cozy. The private space includes a cypress open-air bathtub, a shower booth, and a BBQ cottage.

Premium BBQ

The Tohoku region of Japan has vast swathes of woodlands and is abundant in both wild harvests and seafood. The main dish of the premium BBQ set is wagyu beef steak. You will also relish herb salads sprinkled with edible flowers and drizzled with melted Gorgonzola cheese. Indulge in a special BBQ session while surrounded by greenery.
Staying in the forest

Take a deep breath of the pristine forest air on the pleasant wooden deck.
At the poolside, you can enjoy a Finnish-style aroma sauna. At night, don't miss stargazing while watching the crackling bonfire. In the morning, you will awake to the chirping of birds.
Immerse your senses in nature and enjoy a therapeutic stay in the forest.

Pet-friendly rooms

GLAMP SEASON offers dedicated rooms where you can stay together with your beloved dog. These rooms have a mini dog park exclusively for your pet in front of the dome. They allow both you and your dog to relax and enjoy the stay.