Facility
Glamp Season is a well-provisioned facility where even first-time glampers can feel at ease.
The tent-shaped domes are built atop a wooden deck. Each unit has an open-air bath, shower room, and eat-in kitchen. Come and spend a relaxing time at a place that offers ample private space.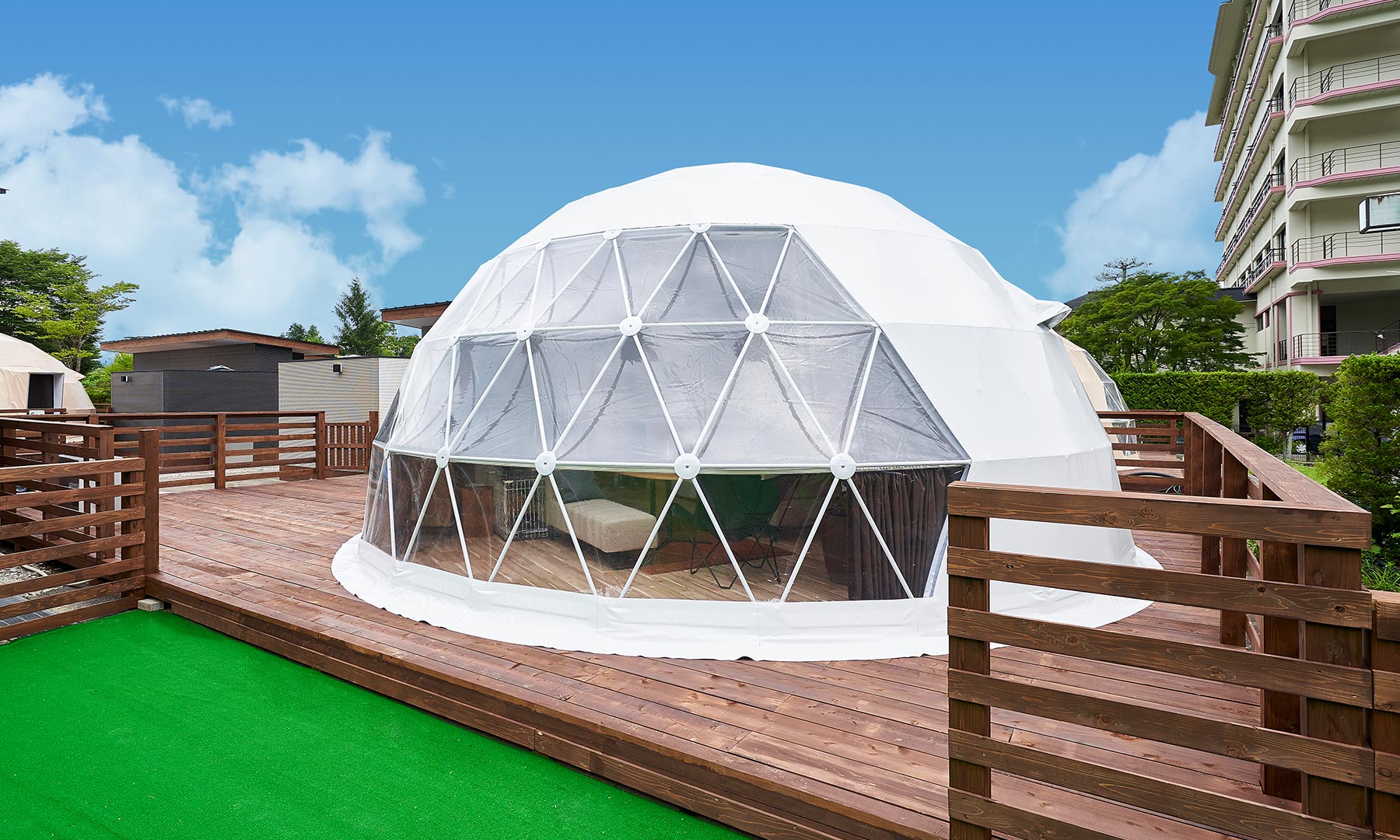 Private area
Dome tent & terrace

Each dome tent measures seven meters across. Inside all are unique interiors patterned after great cities of the world.
On the spacious wooden deck terrace, enjoy a barbecue, gaze at the stars, and relax amid the feel of clear air.

BBQ Cottage

Guests have access to their very own dining area. You are welcome to bring your own food and drinks.The BBQ cottage attached to the room is equipped with a refrigerator and a microwave.

Private open-air bath

The open-air bath in each unit lets you enjoy relaxing bathing without worry over other people or the time.

Shower Rooms
Powder rooms

Clean shower rooms are available whenever you want.
They also serve as powder rooms.
Finnish-style Sauna

There is a portable sauna by the poolside. You can reserve and enjoy a private Finnish-style sauna. Pour aroma essence on the heated sauna stones for the full experience.

Open : 11:00am to 22:00pm (Last start at 21:00pm)
Poncho and hat for sauna, Towel for rent
Charge / 5,000yen

* Each guests can enjoy for 45 min
* Advanced booking is required for sauna use. Please ask the front desk

Night Pool Bar

(Coming soon) The pool in the center of the glamping area is open only during summer. The fantastic lighting of the night pool bar enchants guests year-round.

Pool schedule : 2023/6/1~10/31 (Swimming pool usually opens in early July)
Open : 11:00am to 17:00pm
Night pool bar schedule : 19:00〜22:00 (All year)
Rantei next door
Guests can use the natural hot spring open-air bath at Rantei next door. And also massage services and karaoke are available.
Public bath & Garden open bath

Open : 15:00pm to 25:00am, 5:00am to 9:00am
Bath charge : free
Amenities : Body soap / Shampoo / Conditioner / Bath towels / Towels / Amenity goods / Baby bath / Crib / Baby chair / Facial soap (women's public bath only)

The soothing street

Massages and beauty treatments pamper the senses as well as the body. After enjoying a great meal and hot spring baths, come as you are to this "healing street."
* Payment is required

Karaoke café "orchid"

Relax at the vibrant spot with lights and sounds- be a star here singing and dancing!
* Payment is required

Business hours: 19:00 pm to 24:00 pm (Last start 23:00pm)
* subject to change
Wi-Fi / Smoking area
Free Wi-Fi is available in the area.
Smoking is prohibited in the room. Please smoke in designated areas.