Staying in the forest
Take a deep breath of the pristine forest air on the pleasant wooden deck.
Immerse your senses in nature and enjoy a therapeutic stay in the forest.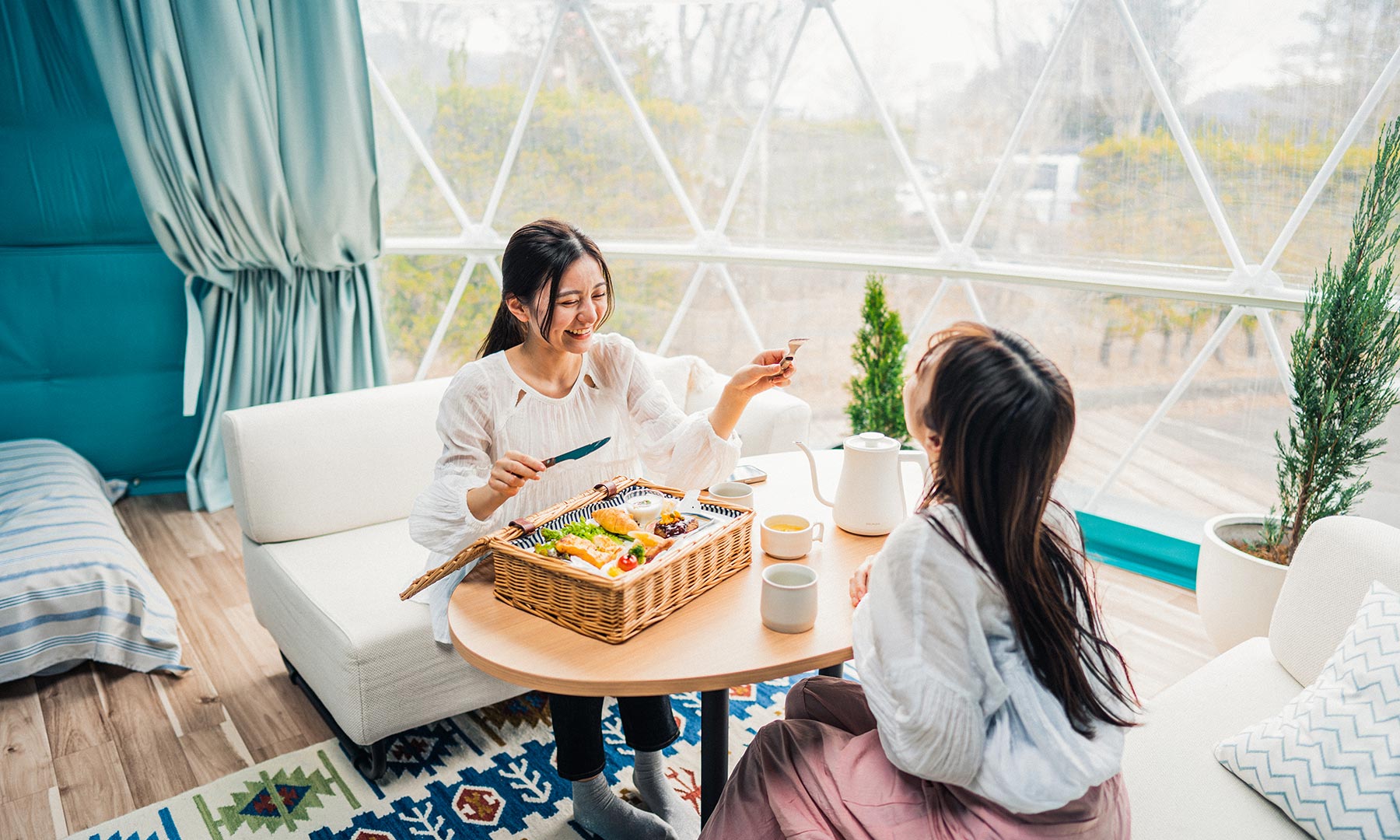 Glamping in the Forest

Designed based on different cities in the world, the dome interiors will make you feel like you're in a totally different world. After checking in, take a break with complimentary sweets and coffee. Kick off your getaway in a space that is as comfy as a hotel room.

Luxurious Barbeque

For dinner, indulge in an exceptional barbeque with premium ingredients. Enjoy luxurious Miyagi Wagyu steak fresh off the grill, shrimp and scallop al Ajillo, and salad garnished with flowers in a private dining area, a feast for both your eyes and taste buds.

Private Open-Air Bath

All rooms have an attached open-air bath. Enjoy a relaxing bath while appreciating the verdant forest before dusk or the star-speckled sky at night.

Finnish-style Sauna

There is a mobile sauna trailer by the poolside. You can reserve and enjoy a private Finnish-style sauna. Pour aroma essence on the heated sauna stones for the full experience.
*Advanced booking is required for sauna use.
Night Pool Bar

(Coming soon) Colorful cocktails will be served at the night pool bar, which is lit up for a breathtaking view. Enjoy the evening hours while watching the crackling bonfire and the starry sky.

Night Theater

Use a projector and the wall of the cottage as a screen to enjoy your favorite videos and music.
Breakfast Basket

Wake up to birdsongs in the morning. Savor a breakfast basket brimming with French toast, croissants, and more in the comfort of your room.